Home improvement retailers, Home Depot (NYSE:) and Lowe's (NYSE:), have seen their sales soar during the pandemic. With the housing market remaining strong, that winning streak, which has so far spanned six quarters—is likely to continue when both of these companies announce their latest earnings during the coming week.
Despite massive job losses and bankruptcies in industries battered by lockdowns and social distancing measures, home sales have been on fire across the US, as many Americans have opted to move to the suburbs, in search of more room to distance, and for remote school and home offices.
Home prices surged in almost every corner of the US in the second quarter as robust demand continued to overwhelm the supply of homes for sale. That shift is encouraging for both retailers since home owners tend to spend more than renters on renovations.
Consumers also had more cash in their pockets, thanks to stimulus checks from the federal government.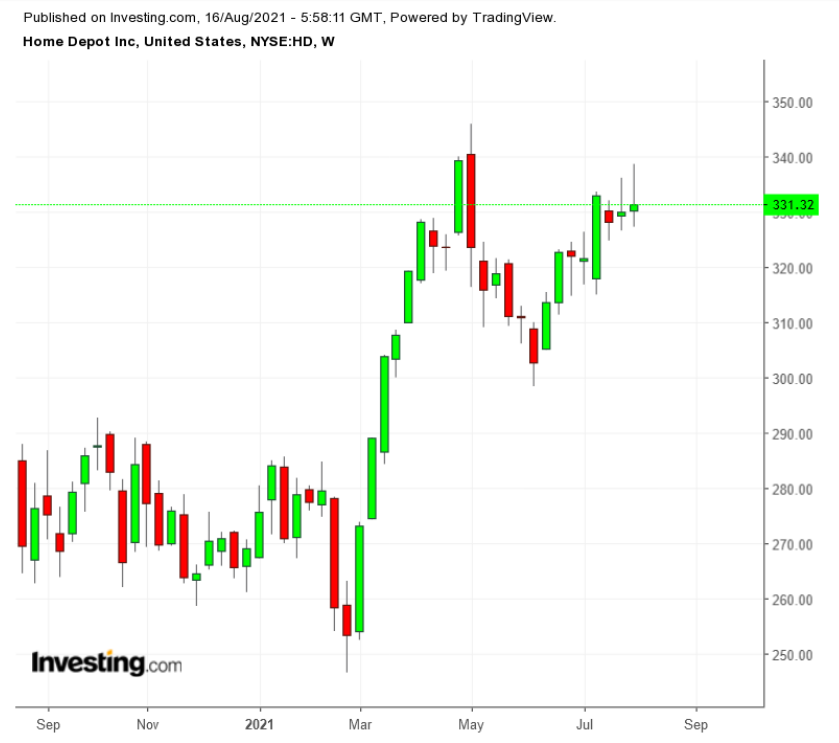 "As home values grow, people feel good about investing in their home overall," Home Depot Chief Executive Craig Menear said in May during a conference call with analysts. "That alone is, I think, a very positive outlook for home improvement as you move forward."
Home Depot is scheduled to report tomorrow, Tuesday, Aug. 17, before the market opens. Analysts are expecting a projected EPS of $4.42 on sales of $40.48 billion. Lowe's reports the following day, Wednesday, Aug. 18, before the open. It could see its sales rise to $26.65 billion and EPS to $3.99.
Inflationary Pressures
With the brisk sales activity, cost escalation has been a major concern for these retailers in recent months after commodity prices surged. But the latest numbers indicate that these home-improvement chains are actually benefiting from this inflationary environment.
Big-ticket sales at HD indicated a strong willingness by shoppers to spend on home improvement in the . Sales above $1,000 items rose by about 50% on a comparable basis year-over-year. The average ticket, during the first-quarter, rose to $82.37, from $74.70. Home Depot's tally of customer transactions rose to 447.2 million in the quarter, from 374.8 million a year earlier.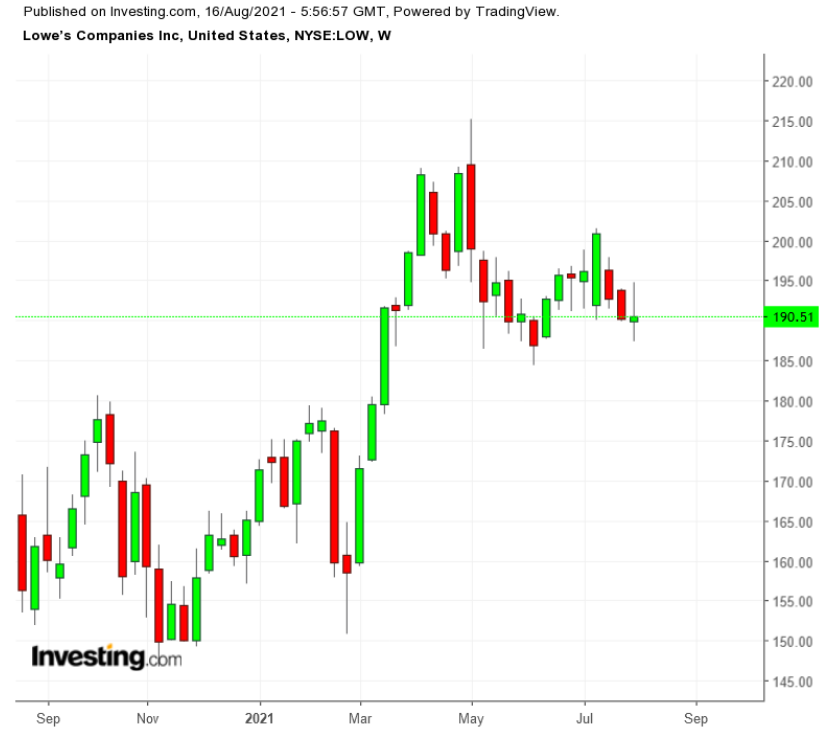 HD's major competitor Lowe's is winning more business from home professionals, who are a more lucrative and steadier kind of customer. According to its latest guidance:
"Better-than-expected year-to-date and a supportive macroeconomic backdrop build the company's confidence in its ability to deliver strong results for the fiscal year, including continued market share gains and the achievement of a 12% operating margin."
Shares of both home-improvement giants have continued to gain this year, with HD up 25% and Lowe's about 20%. Some analysts believe this strength will likely continue as home renovation demand continues to escalate.
"We remain bullish on shares of Home Depot, Lowe's, and Floor & Décor, which we believe are all well-positioned in the current renovation environment," Bank of America said in a recent note.
Bottom Line
Both home improvement retailers are in a strong growth cycle. This should continue as long as the US housing market remains strong, fueled by a low interest-rate environment.